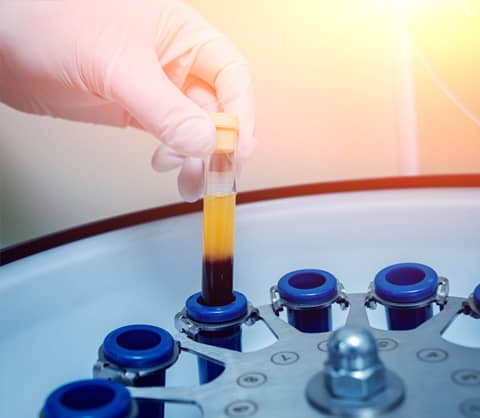 PRP (platelet rich plasma) is an injection treatment performed in the office. PRP for the knee is a biologic regenerative medicine treatment that does not require a surgical procedure. Knee chondral defects have a limited capacity for self repair due to the low biologic activity of chondrocytes and its lack of blood supply. Articular cartilage defects often fail to heal spontaneously and may result in progressive deterioration and eventually osteoarthritis.
PRP is used to treat the symptoms from partial thickness chondral defects of the knee. Platelet-rich plasma (PRP), with a rich source of autologous growth factors, can promote healing of partial thickness chondral defects in otherwise healthy knees. PRP owes its therapeutic use to scientific evidence that growth factors released by the platelets possess multiple regenerative properties. Platelets are involved the complex process of tissue repair by the release of these growth factors. Studies have suggested that PRP stimulate either cell proliferation or matrix metabolism by articular chondrocytes
Symptoms of Knee Chondral Defect:
Patients with a knee chondral defect may have pain and swelling with activities, or a "noisy knee" . The diagnosis is made with a 3T MRI.
PRP is an In Office Procedure:
PRP comes from your blood. A nurse draws the needed amount of blood from your arm. Your blood is processed in the office and the PRP that is produced is then injected into your knee. The process takes 1 hour. The preparation used at Advanced Knee Care is Emcyte PurePRP (https://www.emcyte.com/pureprp-sp/. For knee OA, leucocyte-poor PRP appears to be better than leucocyte-rich PRP.
How does it work in Chondral Defect knees?
In the knee, the release of growth factors from PRP occurs immediately and lasts for around three weeks and the clinical effect tends to wane down by the end of the year. Prolonged and sustained release of growth factors from platelets could possibly help in biological healing and anti inflammatory effects.
More specifically (and a bit technical):
PRP acts at various levels to alter and improve the joint homeostasis.
Within the knee: Platelet alpha-granules contain and release numerous growth factors, including hepatocyte growth factor (HGF), vascular endothelial growth factor (VEGF), platelet-derived growth factor (PDGF) and transforming growth factor-b (TGF-b) , which are good proteins in may promote healing.
The cells lining the knee, synoviocytes are influenced by increased hyaluronic acid (HA) secretion, creating a more favourable and balanced state of blood flow, and a decreased of "bad proteins" like interleukin-1 (IL-1) and matrix metalloproteinases (MMPs).
The death of knee cartilage cells (chondrocytes) is probably diminished through a complex interaction of PRP in the knee joint as insulin-like growth factor 1 (IGF-1) in PRP may slow the expression of programmed cell death 5 (PDCD5).
An overall suppression of the joint inflammation can explain the pain reduction effect, which is the most prominent and disabling symptom of knee OA. PRP counteracted the inflammatory cascade by inhibiting these "bad proteins" with names like IL-1ß,TNF-α, COX-2 and MMP-2 gene expression.
Researchers have noticed increase in mRNA levels of cannabinoid receptors CB1 and CB2 (receptors involved in analgesic and anti-inflammatory effects) and this could explain the analgesic effect of PRP.
PRP is safe.
PRP is a fascinating biological possibility as a therapeutic approach for cartilage pathology.
The present state of knowledge holds promise for PRP in certain applications to promote healing of Knee Chondral defects. Nevertheless, a lot of grey areas remain in our understanding of PRP and articular cartilage healing, and many more focused clinical and in vitro studies are required.
PRP is definitely there to stay for knee cartilage therapy treatment in future.