Makoplasty Robotic Partial Knee Replacement Best for One Compartment Disease
While Makoplasty parts can be combined in several different configurations, by far the most common is to resurface only one compartment.  The one compartment most commonly resurfaced is the medial compartment of the knee.
Medial knee is the time tested application with predictably great outcomes.  This procedure has been dramatically improved upon using Robotic Technology.
In my opinion, lateral uni compartmental application works well when your surgeon is able to incorporate accurate implant placement using Makoplasty Robotics and Computer Balancing  and CT mapping technology.
Xray of Medial Mako (most common construct)
Bicompartmental Mako components (No patellar button shown and 2 options for tibial resurfacing shown)
Cartoon of Bicompartmental Mako (no patellar button)
Bicompartmental Knee Resurfacing:
In my hands, bicompartmental use is a less desirable construct.  If two or more compartments are arthritic Dr. T. will usually recommend Total Knee Replacement.  Another bicompartmental construct is to resurface the medial and lateral compartments, leaving healthy patella.  This is rarely done and no xray image was able to be found on line to even demonstrate the appearance of this.
Xray of Bicompartmental Mako (patellofemoral + medial uni)
Makoplasty Unicompartmental Knee Mimics Natural Knee
Dr. Tarlow attended a course titled "Update on Unicondylar Knee Replacement" this past week at the annual meeting of the American Academy of Orthopedic Surgeons.
The best surgical outcomes are in unicompartmental knee patients. Uni patients have a higher satisfaction score,  lower chance of infection, stroke, heart attack, blood transfusion, blood clot and death rate compared to total knee replacement patients.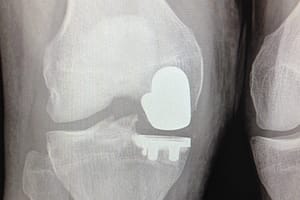 The appeal of the unicompartmental or partial knee replacement also known as Makoplasty can be summarized in the following thoughts.
Makoplasty replaced knees compared to Total Knee Replacement:
Retain more normal knee tissue – including the ACL and PCL ligaments
There is less bone resection
Smaller incisions
Less pain/quicker recovery
improved, often times normal knee motion
Less expensive
2014 study from Germany showed unicompartmental knee closely preserves natural knee kinematics in vitro.
2015 study from New York showed Unicompartmental knee arthroplasty is an economically attractive alternative in patients sixty-five years of age or older, and modest improvements in implant survivorship could make it a cost-effective alternative in younger patients.
Most studies comparing unicompartmental knee replacement versus total knee replacement find a slight preference in favor of unicompartmental knee.
Makoplasty Partial Knee Resurfacing Shown To Be Best Surgical Method
Study finds MAKOplasty® Partial Knee Resurfacing Offers Lower Post-Op Pain, Improved Knee Function
 The content for this blog post comes from the work by Blyth MJ, Smith J, Jones B, MacLean III AB, Anthony, Rose P entillted Does robotic surgical assistance improve the accuracy of implant placement in unicompartmental knee arthroplasty?
Comments from Dr. Tarlow
:  Common sense would lead me to conclude that precise implant placement will result in the best patient outcomes from partial knee replacement surgery.  Makoplasty allows the surgeon to optimize implant size, knee alignment, implant tracking and limp alignment.  My observation is that many patients return to close to normal knee function after this procedure.  Scientific research is lacking to validate my observation.  This is the first in hopefully many studies that corroborate my clinical observations.
Summary of Study:  Results of an ongoing study on partial knee replacement surgery provide early clinical evidence that robotic arm assisted
MAKOplasty Partial Knee Resurfacing
results in improved knee function and less pain when compared to manual procedures using Oxford® implants.1 The study, which started in October 2010, is being conducted in Scotland and will be ongoing for ten years. The initial results looked at early outcomes of 100 partial knee replacement procedures – 50 robotic arm assisted MAKOplasty procedures and 50 manual procedures performed with Oxford® implants. All surgeries were unicompartmental knee arthroplasty (UKA) procedures, which involve only one compartment of the knee.
The researchers found that when compared with conventional procedures MAKOplasty resulted in:
Lower post-operative pain from day one up to 8 weeks  after surgery
More accurate implant placement
Twice as many patients with improved knee functionality (57% vs. 26%) based on  American Knee Society Scores
This study was presented at the 2013 Annual Meeting of the American Academy of Orthopaedic Surgeons.
Makoplasty Knee Surgery and Home In One Day-Outpatient Partial Knee Replacement
Dr. Tarlow team performing Makoplasty
Stefan D. Tarlow, M.D., Knee Surgeon with Advanced Knee Care, P.C. has posted a new video with an overview showing how Makoplasty, a partial knee replacement procedure using robotic technology can be performed as an outpatient. Click here to watch the 4 minute video.
Makoplasty – Partial Knee Replacement – Home the Same Day

Scottsdale Healthcare Thompson Peak acquired a Mako RIO system in Janaury, 2011.  Since that time Dr. Stefan Tarlow has performed over 180 procedures, more than any other orthopedic surgeon in Arizona.   Dr. Tarlow is Arizona'a most practiced and well-versed Makoplasty surgeon. Not content with status quo, he and his team continue to innovate and improve on the technique.Our team of Surgeons, Nurses and Anesthesiologists have continued to refine our delivery of care for our surgical patients.  This is particularly evident in the patients undergoing partial knee replacement using the robotic technology known as Makoplasty.
Today's standard delivery of care has evolved to outpatient day surgery
due to improved surgical efficiency, saphenous nerve block (little to no motor weakness compared to femoral nerve block), and recovery room pain management with short acting opiods (Fentanyl).  Together  these modifications allow many patients to go home directly from recovery room.

Dr. Tarlow is the only Orthopedic Surgeon to limit his practice to encompass Adult Reconstruction and Sports Medicine for the diagnosis and treatment of knees. Dr. Tarlow's practice focuses on excelling in the art of Knee Diagnosis and Surgery. He performs the full spectrum of Knee Surgery from Knee Arthroscopy, ACL Reconstruction, Patellar Stabilization and Cartilage Restoration to Makoplasty Partial Knee Replacement to Total Knee Replacement to Revision Total Knee Replacement. His focus is exceptional customer service and he endeavors to exceed the diverse expectations of his patients.