Surgical intervention using knee joint replacement implants often times returns patients back into their normal life style with markedly diminished or no knee pain.
NON SURGICAL "STEP TREATMENT" ALTERNATIVESTO TOTAL KNEE REPLACEMENT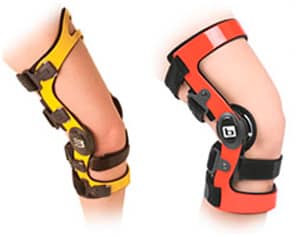 Advanced arthritis of the knee symptoms (pain, stiffness, limited motion, decreased walking and standing tolerance) often times intensify to the point of interfering with daily activities and causing intolerable pain during some or all activities. For these people, surgical intervention using knee joint replacement implants often times returns patients back into their normal life style with markedly diminished or no knee pain.
Self directed treatments can be helpful in cases of mild to moderate knee osteoarthritis.  These measures includes optimizing body weight, daily aerobic low impact exercise, activity modification/rest, ice and OTC pills such as ibuprofen, naproxen, or acetaminophen. Physician directed treatments include physical therapy, prescription anti inflammatory NSAID like Celebrex or Mobic, Cortisone injections, Visco gel injections, arthritis unloader bracing, acupuncture, and if indicated for meniscal tear or loose body – knee arthroscopy.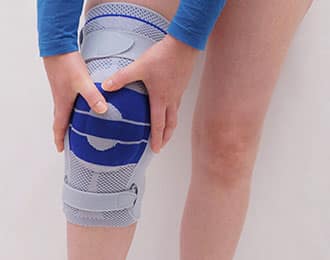 Most insurers cover knee braces for people with moderate to advanced knee arthritis or activity induced knee. The authorization process can be tedious but our experience in helping patients through this process can win the day. Out of pocket costs vary depending on the insurer and the type of plan. Please ask us about pricing. Cash Pricing is $1000.   We have had the best results with the Bledsoe Axiom Adjustable or Bledsoe Z 12 Adjustable OA for medial compartment OA and Lateral compartment OA. This knee brace is also for people that are bow legged or knock-kneed.  This knee brace is fabricated from a Lightweight Magnesium or Aluminum material and streamlined design.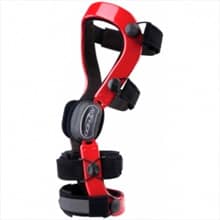 DONJOY DEFIANCE® FOR ACL OR OTHER KNEE LIGAMENT PROTECTION
The custom Defiance is DonJoy's flagship knee brace. With clinically-proven technology including the 4-Points-of-Leverage System™ plus innovative, high-tech materials and design, this lightweight brace provides durable support for moderate-to-severe ACL, PCL, MCL and LCL instabilities. Plus, the low-profile design fits comfortably underneath clothing and sports uniforms, including hockey and football. As the strongest of DonJoy's functional braces, the custom, carbon composite Defiance is recommended for high-collision sports, while its featherweight materials and custom fit also make it the brace of choice for activities of daily living. Available with the LoPro FourcePoint Hinge, the only hinge clinically-proven to protect the ACL. Defiance technology is on the field, on the court, on the slopes and in the water protecting knees and providing confidence to those who wear it. First introduced in 1992, DonJoy has produced more than a million braces; in college football alone, 22 of the Associated Press Top 25 teams use the Defiance knee brace.
BLEDSOE 20.50
We use the Bledsoe 20.50 for Patellofemoral Runner's Knee or subluxation /arthritis of the knee cap. This device is indicated for Patellofemoral Pain Syndrome (PFPS) and any condition where additional support to resist lateral patella dislocation is desired. These conditions include Patella Arthritis, Patellofemoral Malalignment Syndrome, Patella Subluxation and/or Dislocation, Patellar Tendonitis, Osgood-Schlatter's Disease, Post Operative Effusion, and Jumper's Knee.
TOMMIE COPPER REFRESH COMPRESSION KNEE SLEEVE
The Tommie Copper Refresh Compression Knee Sleeve brings maximum support and pain relief all day and all night. The lightweight comfortable compression sleeve is designed to be worn under clothing and features a no-slip band for increased mobility during any activity.  This brace can also be worn at night to provide comfort from arthritic knee pain that can disrupt sleep.  Flip the bottom band up for increased patella support. Cool Copper™ moisture management technology keeps your leg dry and refreshed so you can enjoy a life with less pain.  7 Colors, $30, order direct on line.
Commonly Identified Benefits of Robotic Knee Resurfacing:
WATCH RELATED VIDEOS
Makoplasty Robotic Assisted Knee Surgery Videos
Ready to Schedule a Consultation?
Get started today by completing our request form. If you have additional questions, contact us by phone or e-mail, and our trained staff will assist you to the best of our ability or have Dr. Tarlow address your question when appropriate.