What Is a Makoplasty Partial Knee?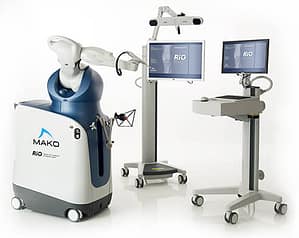 Dr. Tarlow utilizes the world's most advanced orthopedic robotic arm and computer software system at HonorHealth's Scottsdale Healthcare Thompson Peak. Each implant is customized to precisely optimize your knee alignment, tracking, and ligament tensioning to extend the life of your implant. Makoplasty Robotic partial knee resurfacing is a less invasive solution designed to restore the feeling of a natural knee. Every patient is unique. Every result is precisely beautiful. Walk away from your knee pain today!
Advanced Knee Care, P.C. and Scottsdale Healthcare Thompson Peak is one of a few locations worldwide to offer partial knee resurfacing with MAKOplasty®, a technique that resurfaces the damaged area of the knee without compromising the healthy bone, ligaments and tissue surrounding it. The robotic-arm assisted, minimally invasive procedure may offer a smaller incision and a faster, less painful recovery than traditional joint replacement surgery, with many patients back on their feet in just days.
The process begins with a detailed evaluation including an office visit with Dr. Tarlow for specific knee history, detailed physical exam and standing 4 view knee x-ray series. Other special imaging tests might be required. After the decision to perform Makoplasty is finalized, three main steps are completed to assure accurate sizing, precise implant alignment, and proper balancing of the knee.
Step One: CT Scan of the knee done at Scottsdale Healthcare Thompson Peak (must be done at this facility – CT machine is specifically calibrated for Makoplasty procedure). The CT provides precise, unique anatomic detail of your knee. This data is entered into the Makoplasty computer and is used both before and during the procedure to accurately plan implant size, orientation and alignment utilizing CT-derived 3-D modeling. A provisional sizing and positioning of components is done before surgical implantation.
Step Two: Intra operative placement of Computer Navigation. This "tells the computer" exactly where the knee bones are in space and provides kinematic detail about knee motion and balance. This information is used to refine exact placement of the implant, still in the virtual realm at this point in time.
Step Three: Integration of step one and two allow precise virtual placement of the implant through real-time intra-operative adjustments for correct knee kinematics and soft-tissue balance.
Makoplasty Partial Knee Replacement Recovery
Makoplasty is an inpatient procedure with a usual one-night hospital stay. Typical recovery includes using a walker for a week and return to driving within 2 weeks. As a knee arthroplasty procedure, MAKOplasty® is typically covered by most health insurers.
The Robotic Arm Interactive Orthopedic System is now introduced into the knee using
minimally invasive exposure and bone sparing removal of damaged tissue to form a shallow trough to allow the Restoris implants to be permanently placed into the knee replicating the precise sizing and location derived from CT scan, Computer Navigation, and virtual kinematics. RIO® assists the surgeon in achieving natural knee kinematics and optimal results at a level of precision previously unattainable with conventional instrumentation.
Commonly Identified Benefits of Robotic Knee Resurfacing
Less Pain vs. Total Knee has been observed
Rapid Recovery is commonly seen
Minimal Rehab
Minimally invasive incision
Precision Implant Position
One Night Stay is usual
Easier Recovery Than Total Knee has been observed
Preservation of Healthy Tissues
Patient Specific, Custom Fit for Men and Women
Return to Activity including Golf ,Tennis, Hiking, Biking, Work
Factors That Favor A Successful Partial Knee Replacement (Makoplasty)
Implant Design, Surgeon Experience,  and Patient Age greater than 65 years are associated with improved outcomes for unicompartmental knee replacement.  This is sometimes termed Makoplasty or partial knee replacement. In Dr. Tarlow's opinion, precise implant placement using computer navigation and virtual modeling and robotic arm guided resection will be shown further improve outcomes.
1.  Implant design  Zimmer
Unicompartmental Knee arthroplasty (ZUKA) had a 1 % revision rate, the Oxford Mobile Bearing 1.7 % revision rate and all others tested were 6 % or greater.  The Restoris implant used for Makoplasty incorporates all the important design characteristics of the ZUKA implant.
2.  Surgeon Experience
A surgeon case volume of less than 12 cases per year had double the revision rate compared to surgeons with greater than 12 cases per year.  Dr. Tarlow performs greater than 75 cases per year.
3.  Patients younger than 55 are in most cases more physically active than patients older than 65 years of age
The revision rate in the Kaiser report observed a 5 times higher revision rate in patients under 55 years of age.  This is not a universal finding and other studies can be found showing similar revision rates in patients of all ages.
Optimizing Makoplasty Partial Knee Replacement for Our Patients
Advanced Knee Care and Stefan D. Tarlow, MD have had the Makoplasty robot for use at Scottsdale Healthcare Thompson Peak since January 2011. Our team has continued to refine the delivery of this service to our patients.  "State of the Art"  is an Outpatient surgical procedure with minimally invasive techniques, multimodal pain management and faster recovery.  
An office visit with Stefan D. Tarlow, MD at his Scottsdale location starts the process.  In most cases the decision for Makoplasty can be made on the initial visit including Patient History, Comprehensive Knee examination, and orthopedic quality "4 view" standing xray done in his office.  
On arrival at the hospital our RN team prepares the patient for the procedure including our 13 Steps to help prevent surgical site infections and initiation of multimodal pain control.   Saphenous Nerve Block, a quick and painless anesthesia procedure performed in the Pre operative area, is one of the keys to Outpatient Makoplasty.  
The Makoplasty Partial Knee replacement is done in our operating room with our hand-picked team of anesthesiologist, nurses and physician assistants.  The procedure duration is 90 minutes in most cases. 
Once awake, a Physical Therapist consult in the recovery room is the last step before heading home, leaving the hospital on a walker.  
Three Pain medications are used in combination to keep our patients comfortable as they recover from their surgery.  The three include oxycodone (sometimes hydrocodone) are narcotics that works by binding to receptors in the brain and blocking the feeling of pain. Lyrica is thought to work by blocking pain in the brain and spinal cord.  Acetaminophen is thought to block pain receptors in the brain.
VenaFlow Elite is a home sequential compression device to lower DVT 
risk during our patient's first 2 weeks at home.  In addition, Aspirin in used twice daily for 2 weeks.  
Finally, Outpatient Physical Therapy is initiated the week after surgery and continues for 3-4 weeks.  
These are the keys as to how we optimize recovery for our Makoplasty patients.  

Dr. Tarlow is the only Orthopedic Surgeon to limit his practice to encompass Adult Reconstruction and Sports Medicine for the diagnosis and treatment of knees. Dr. Tarlow's practice focuses on excelling in the art of Knee Diagnosis and Surgery. He performs the full spectrum of Knee Surgery from Knee Arthroscopy, ACL Reconstruction, Patellar Stabilization and Cartilage Restoration to Makoplasty Partial Knee Replacement to Total Knee Replacement to Revision Total Knee Replacement. His focus is exceptional customer service and he endeavors to exceed the diverse expectations of his patients.