Non surgical treatment for osteoarthritis of the knee is most successful for mild to moderate disease.  Usually the pain and function from severe knee OA requires partial or total knee replacement surgery.
Patients need to know how likely a particular treatment is.  This study ranked the effectiveness of oral pill treatment and intra articular injections categorized based on pain symptom relief and knee function improvement.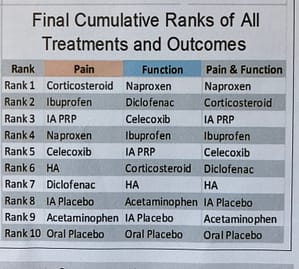 The 3 most effective treatments for knee OA pain are Intra Articular steroid injection, oral ibuprofen and knee injection with Platelet Rich Plasma.
The 3 most effective treatments for knee OA functional limitations (limp, diminished walking ability) are non steroidal anti inflammatory medications – Naproxen, Diclofenac and Celecoxib.
The 3 most effective treatments for both knee pain and  knee OA functional limitations are oral Naproxen pills, Intra Articular steroid injection and knee injection with Platelet Rich Plasma.
Of note, hyaluronic acid (also known as viscosupplementation) injections is at best in the lower half of the effectiveness scale.  Similarly, Tylenol (acetaminophen) is not therapeutic.
This study can be found in the JAAOS, May, 2018.

Dr. Tarlow is the only Orthopedic Surgeon to limit his practice to encompass Adult Reconstruction and Sports Medicine for the diagnosis and treatment of knees. Dr. Tarlow's practice focuses on excelling in the art of Knee Diagnosis and Surgery. He performs the full spectrum of Knee Surgery from Knee Arthroscopy, ACL Reconstruction, Patellar Stabilization and Cartilage Restoration to Makoplasty Partial Knee Replacement to Total Knee Replacement to Revision Total Knee Replacement. His focus is exceptional customer service and he endeavors to exceed the diverse expectations of his patients.